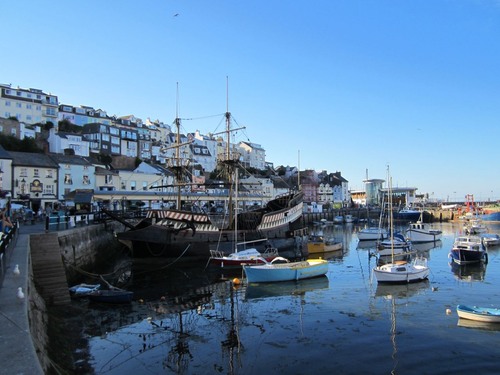 Brixham Harbour is a working fishing harbour in the scenic Torbay of South Devon, United Kingdom. Brixham Harbour was once considered to be England's most important fishing port, and its importance is still evident today. A picturesque fishing village, its history dates back to the 17th century.

The harbour is surrounded by small boats, dinghys and larger trawlers, with the main harbour being situated within the castle walls. Its scenic views make it an attractive tourist destination. Visitors can spot harbour seals and a variety of sea birds around the harbour including cormorants, guillemots and razorbills. The marina to the north of the harbour is a popular spot for sailing and boat-watching. Part of the harbour has been pedestrianised and there are plenty of cafes and eateries situated nearby offering seafood and other local delicacies. It's also home to the Annual Brixham Pirate Festival and it's well worth exploring the wealth of cobbled streets and independent shops and galleries that line the seafront. Brixham Harbour is an attractive spot for photographers and there are plenty of opportunities to capture stunning coastal views.
🏨 Hostals
🌦 Informació meteorològica
Obteniu informació sobre el temps i molt més des de l'aplicació. Descarrega'l gratis!
🚕 Com arribar?
Obteniu informació sobre rutes (en cotxe, caminant, transport públic, etc.) i molt més, des de l'aplicació. Descarrega'l gratis!