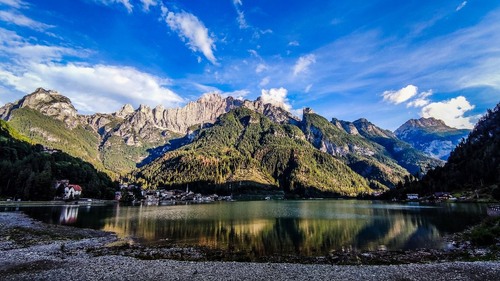 Alleghe, Monte Civetta and Lago di Alleghe are all beautiful destinations in the Italian Dolomites, located in the Belluno province of the Veneto region. The stunning scenery of the Dolomites offers travelers and photographers breathtaking views of sweeping mountain ranges and alpine lakes, perfect for capturing memorable moments. Alleghe is a great starting point for exploring the surrounding areas, including the Monte Civetta summit and the Lago di Alleghe, a crystal blue lake located at the foot of the imposing Monte Civetta. From Alleghe, visitors can follow loads of walking trails that wind through valleys and up mountains to explore the region's stunning natural beauty and admire its diverse flora and fauna. On top of the hike, the area's activities are endless and include mountain biking, skiing, kayaking, and more. With its beautiful mountain range, crystal-clear lake, and wealth of outdoor activity options, Alleghe, Monte Civetta, and Lago di Alleghe are the perfect destination for undiscovered, awe-inspiring getaways.
🏨 Hostals
🌦 Informació meteorològica
Obteniu informació sobre el temps i molt més des de l'aplicació. Descarrega'l gratis!
🚕 Com arribar?
Obteniu informació sobre rutes (en cotxe, caminant, transport públic, etc.) i molt més, des de l'aplicació. Descarrega'l gratis!